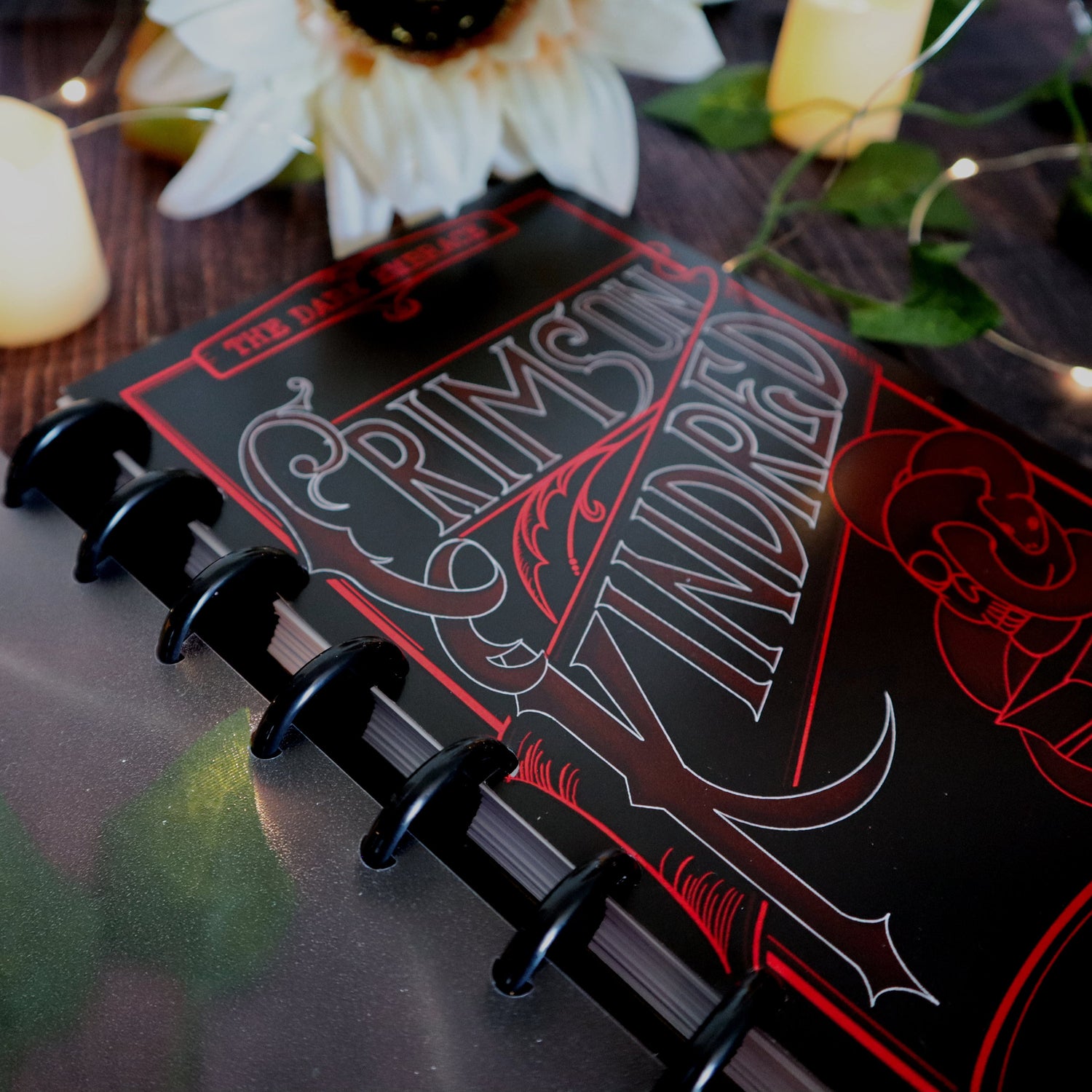 Vampire the Masquerade Notebook
Kindred welcome our newest notebook for fans of VTM. Take notes and track relationships for your coterie now!
Get Yours Here
New to the Crew! Pathfinder and Farming Sim Notebooks (say what?!)
New Pages Packs for our New Journals are In the Works!
We're busy designing page packs for our newest journals (that's Luma Terra, Farmer's Almanac, Traveler's Ambition, Guiding Light for the GM and Crimson Kindred). Please be paitent with us are we design them! Please consider still purchasing the new notebooks and leaving us feedback as well! We're always looking to improve and would love feedback on the new notebooks!
Drop us a note about the new journals here!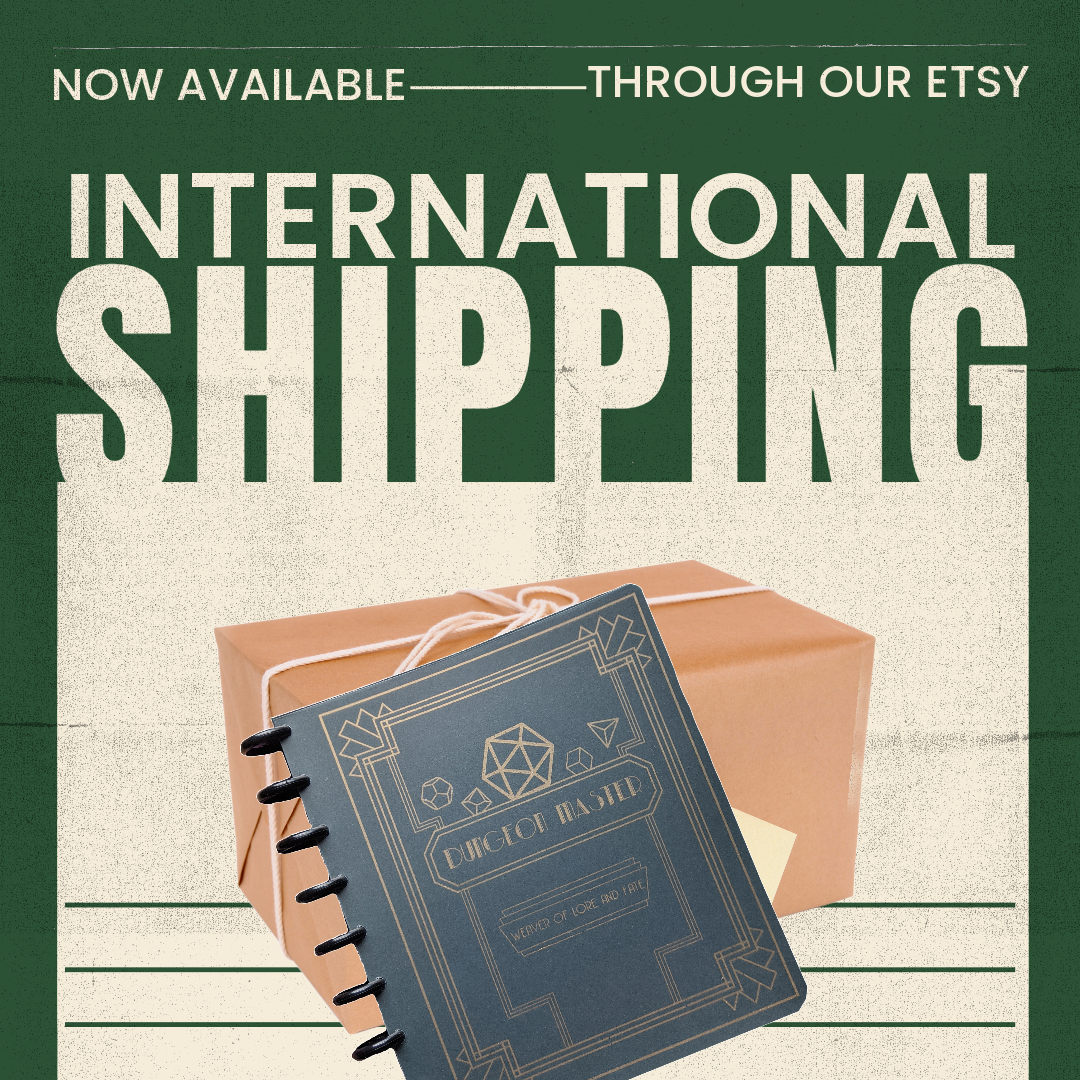 International Shipping Through Etsy!
We're shipping internationally again only through our Etsy shop! Learn all the details here!
Read More
Hardcover Character Notebooks and Blank Notebooks!
Carry your notebook in style!
NEW TOKENS
Potion Tokens

No more "what's the dice roll for a potion of healing?" These tokens contain the dice roll on their tags. PLUS they pop right into your discbound notebook so you don't lose them!

Heal up with these!

DM Inspiration Tokens

Hand out inspiration tokens to your players that they won't lose!

Pass out the inspo!

Bardic Inspiration Tokens

Bards Rejoice! No longer will you need to remind your barbaric friend that they have 1d10 inspiration. They'll have it on a convient, not so easy to lose card that you can even write the dice type on! Ain't that nifty?

Sing your praises with these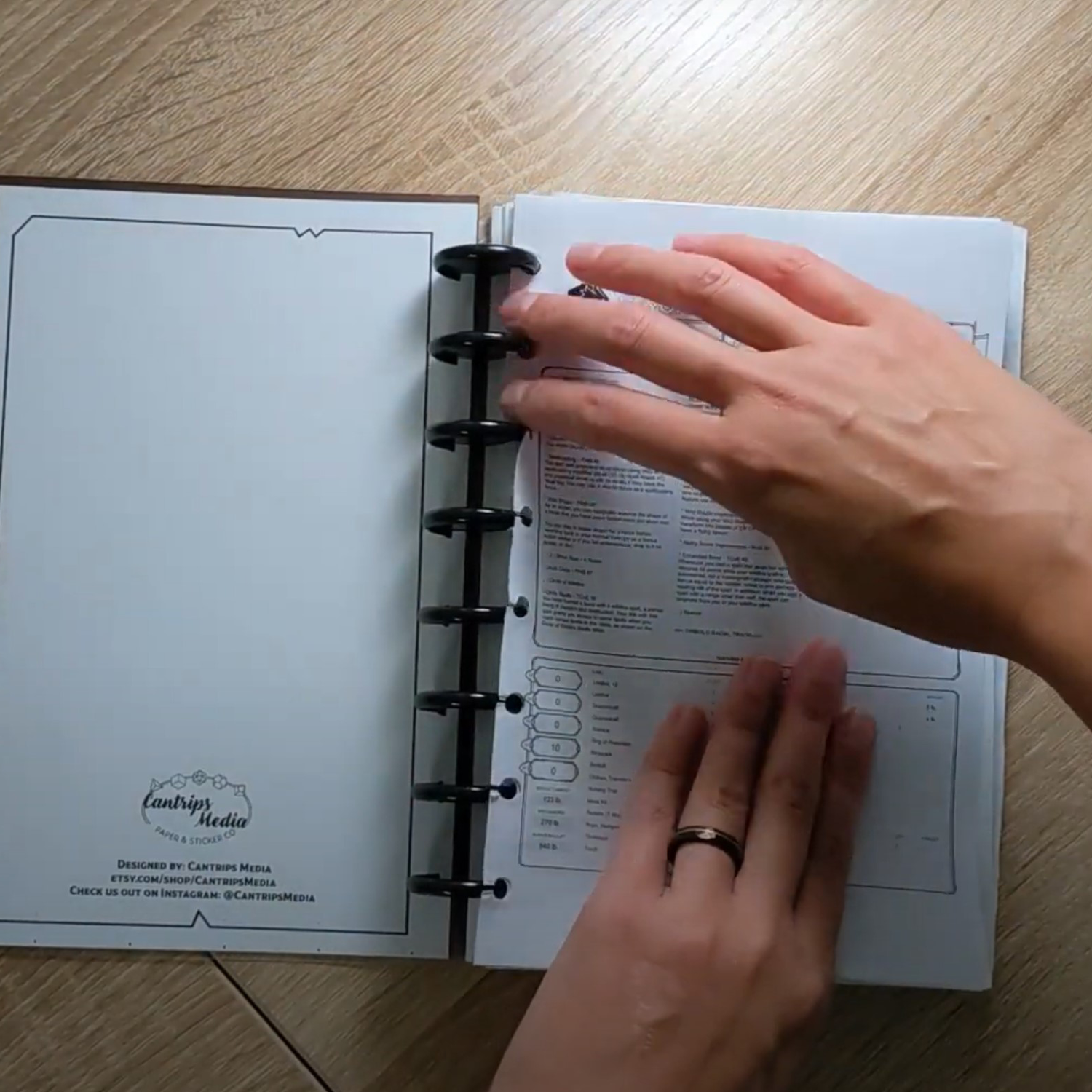 Build Your Own
While we don't offer customization, we do offer all the necessities to build your own custom notebook! Pick your discs, cover, and pages here!
Get Started
Our Etsy Customers Love Us
Based on 2,554 Reviews
Honestly a life saver. I've spent so much time trying to cram all my eldritch evocations into the features and traits that it's...

Read More

Honestly a life saver. I've spent so much time trying to cram all my eldritch evocations into the features and traits that it's hilarious. I *love* the way this looks and is laid out!

Hide

Posted on

Exactly as pictured. Fast delivery. Nice shirt, washes well. Definitely recommend this seller

Exactly as pictured. Fast delivery. Nice shirt, washes well. Definitely recommend this seller

Hide

Posted on

I love these notebooks and the stickers! Such an amazing treat for my new campaigns!

I love these notebooks and the stickers! Such an amazing treat for my new campaigns!

Hide

Posted on

Can't wait to play my new cleric with this notebook. Love having all the spells in the notebook already.

Can't wait to play my new cleric with this notebook. Love having all the spells in the notebook already.

Hide

Posted on

Superb product. Fast Shipping. Seller is very communicative and responsive to any inquiries. Highly recommend.

Superb product. Fast Shipping. Seller is very communicative and responsive to any inquiries. Highly recommend.

Hide

Posted on

Super speedy shipping! Can't wait to use it in our next session!

Super speedy shipping! Can't wait to use it in our next session!

Hide

Posted on

The notebook is great! I really like the formatting of the pages. I was able to upgrade mine by buying a hard leather cover and...

Read More

The notebook is great! I really like the formatting of the pages. I was able to upgrade mine by buying a hard leather cover and metal rings from other sellers. If you plan to do the same, which I highly encourage if you plan on using this for a lengthy campaign, be sure to purchase Junior Size when you look at what covers to get.

Hide

Posted on

I got for my friend as gift and he LOVEDEDD IT🤩🤩🤩

I got for my friend as gift and he LOVEDEDD IT🤩🤩🤩

Hide

Posted on

Absolutely perfect, bought it as a gift and they loved it!

Absolutely perfect, bought it as a gift and they loved it!

Hide

Posted on

This item is great. Definitely will be buying from here again. I usually have a hard time keeping my campaigns straight and this...

Read More

This item is great. Definitely will be buying from here again. I usually have a hard time keeping my campaigns straight and this really helps. I love the little tabs I got with it. I would recommend this for anyone how wants to log there campaign on paper instead on a computer.

Hide

Posted on

I can't wait to start filling everything in and use it for sessions!

I can't wait to start filling everything in and use it for sessions!

Hide

Posted on

Love it! I like how you can rearrange the sections to look the way that works best for you!

Love it! I like how you can rearrange the sections to look the way that works best for you!

Hide

Posted on

Fantastic quality! The bindings make it really easy to take pages out and put them back in as needed.

Fantastic quality! The bindings make it really easy to take pages out and put them back in as needed.

Hide

Posted on