Frequently Asked Questions
Are you restocking JOURNAL NAME?

Yes! I restock weekly.

I get this question almost as soon as something is out of stock. I promise it's coming back! Unless something is listed as "limited edition", I try to have everything restocked by the weekend!

I do not currently have pre-orders available, but you can sign up for notifications as soon as it comes back in stock.

You can also follow us on Instagram or Facebook as we use the story feature during the holidays to announce restocks too!
Are you making a journal for CLASS?

Maybe! For Bloodhunters, I will be working on a notebook for you eventually but currently am working on expanding to other lines of products.

For Pathfinder friends the answer is: only if I sell more Pathfinder notebooks. Currently the demand for Pathfinder notebooks is very small so until I see that demand increase I will not be doing more notebook designs as it doesn't make business sense to devote more time to a product line that's not currently selling much! In other words if you want to see class based stuff for Pathfinder, spread the word about the Pathfinder Notebooks!

Please note I will not be doing subclasses. (Therefore, Circle of Fire druids should purchase a druid journal, and Eldrith Knights should consider the fighter journal, etc).

If you want to see what we're working on, following us on Instagram a great way to see what's next. 

If you want to contribute to upcoming projects, check out our Ko-Fi.
Are you making a page packs for other journals?

I will make page packs for all the journals I have availble, but please note that this takes a lot of time and I'm the only designer. Thank you for understanding!
Do you offer downloadable PDFs & Printables?

The short answer: Not yet! It's definitely in the pipeline, but as a one man team, it's been pushed to the sidelines until some of our bigger projects are complete. 

We do offer a digital notebook for Players (a DM one is coming soon). You can check it out here.

If you want to see what we're working on, following us on Instagram a great way to see what's next. 

If you want to contribute to upcoming projects, check out our Ko-Fi.
Do you offer journals for other RPGs and editions outside of D&D 5e?

Unfortunately, no. While I would love to offer journals for other editions, our team is too small. We hope to do this one day, but right now we're at capacity.
How long does processing and shipping take?

In general, I process orders within 2-3 days. This means, your order will be shipped in about 2-3 days.

Obviously, this depends on how far away you are from me, the type of shipping you select, and the time of year (fourth quarter is very busy for postal services!) 

If you are looking to purchase a journal as a gift, I recommend giving yourself at least one week between placing the order and the time that you need the gift. This is because I only list what's already been made, so an item may be out of stock if you wait too long.

All shipping times are estimated. As a one man team, I cannot guarantee that your item will arrive on time. But I can say that I try to process orders as quickly as I can.
Is there an estimated shipping date for my order?

We package orders for shipping on Mondays and Thursdays. So order processing time can be 2-3 days then shipping times depend on your selected mail service.
Can I cancel my order?

Of course! Please reach out to us as soon as possible though, as we try to process orders quickly and would like to prevent your order from being shipped. 

In the event that your item is shipped and you'd like to cancel, you must ship the item back to us. Upon receiving the item, we inspect it to be sure that it is in an unused condition and will promptly refund your money.
Can I get a refund?

Of course! Please reach out to us as soon as possible to start the refund process. We have a 30-day return policy, which means you have 30 days after receiving your item to request a return.

To be eligible for a return, your item must be in the same condition that you received it, unworn or unused, with tags, and in its original packaging. You'll also need the receipt or proof of purchase. To start a return, you can contact us at kylied@cantripsmedia.com. If your return is accepted, you'll need to ship it back to us. We'll tell you where to send your package.

Items sent back to us without first requesting a return will not be accepted.

You can always contact us for any return question at kylied@cantripsmedia.com.

We are not liable for stolen items, but we will try our hardest to assist you. If you fear that your package may be stolen we recommend contacting us to add a signature confirmation to your order.
Do you ship internationally?

We're resuming international shipping through our Etsy shop! With our new packaging, we're hoping that packages will arrive in better condition than our experiences in the past. This means that journals will ship unassembled. 

Here are some other important details:

▪️ 🌐International shipping is only available through Etsy.
This is because Etsy handles all the tax related stuff for each country so we don't have to. As a small business this saves me the headache.

▪️ 📦Tracking gets weird...
When shipping internationally through Etsy, tracking is through USPS, however, once USPS hands the package over to your country's postal service tracking WILL STOP. This is because USPS does not have access to the tracking system in your country. But don't worry! Your package will still arrive. It usually takes about a week or two for it to get through customs and to your door once the tracking stops.

▪️ ⏳It will take a while.
Even if you order expediated shipping, your order will take a while to arrive. We recommend that you order way in advance if you need it by a certain date. Orders can typically take 2-4 weeks but in the past we have seen it take longer if issues arise. Please give it some time before reaching out to us.

▪️ 📫 Free shipping is only for US domestic orders over $60.
Unfortunately shipping costs are too expensive for us to offer a free shipping guarantee for international orders and we don't see this changing anytime in the near future.
My order says it was delivered but it's not here! What can I do?

The first thing to do is WAIT.

Most packages are shipped by USPS which can oftentimes scan things as delivered but not actually deliver them for up to 2 days. So if your order has been marked delivered by USPS, we ask that you wait 2 days before reaching out. We also cannot do anything until about 2 days after it has been marked as delivered as the USPS will tell us to wait 2 days before submitting a missing package claim.

After 2 days, if your package has still not arrived, then please contact us. We will then submit a missing package claim with USPS and they will search for your package. This usually takes a week (though it takes longer during 4th quarter). Once we hear back from them, we can discuss the next steps of a refund or sending you a replacement order.

We understand that with Amazon Prime, many expect things to be delievered very quickly, but please remember that we aren't a big box store or big business and have to abide by the USPS rules. USPS is also full of humans, meaning things get messed up all the time since nobody is perfect. Please have patience with your mailperson.
Questions About Discbound Journals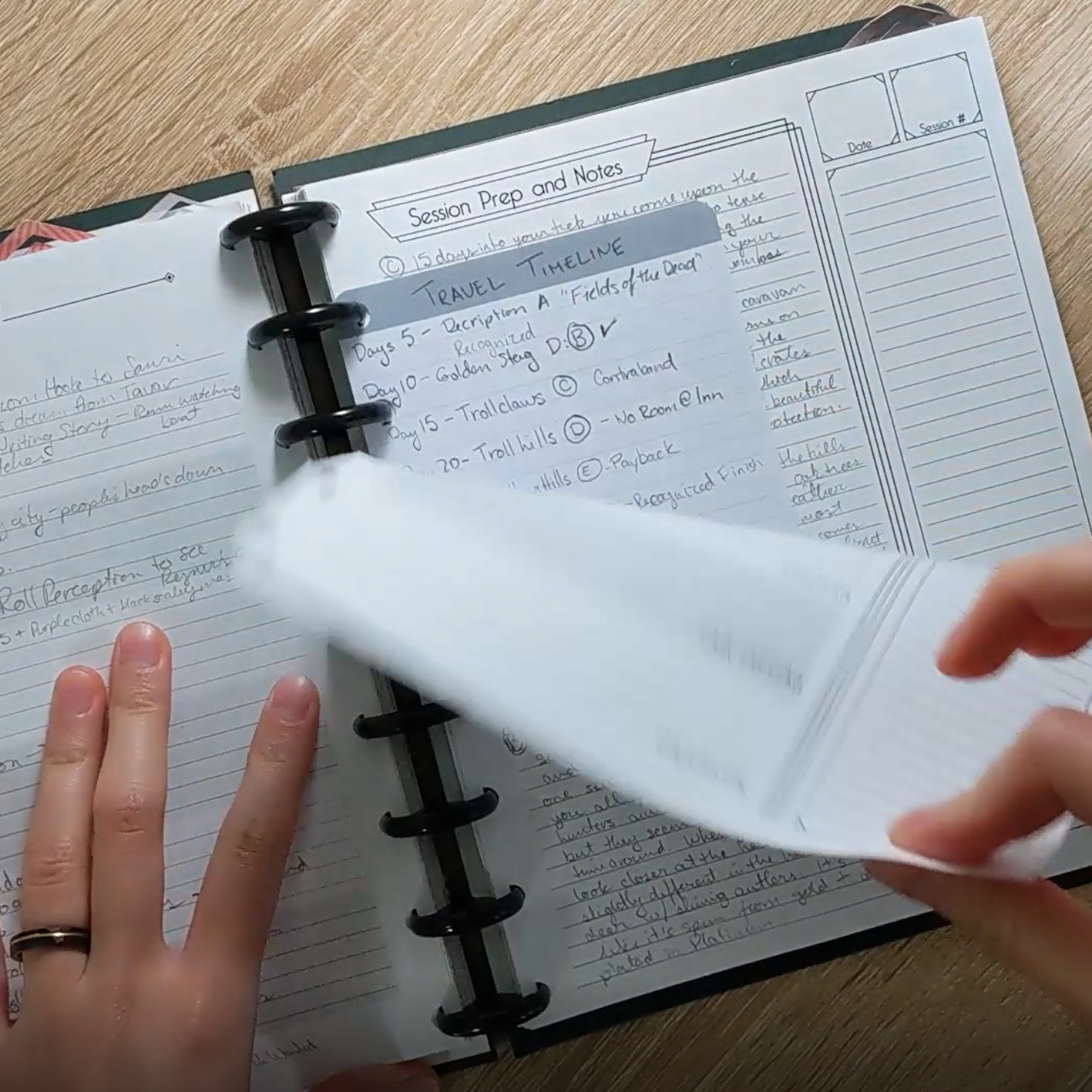 How do I add my own printed pages?
How do I assemble my notebook?

Go to this page to learn about assembling your notebook!
How do I remove or move pages?

The discs do not open up. Instead, you'll gently tug on the upper left hand corner towards you and the page will slowly pop out.

To pop it back in, simply press down on the inner section of the page near the discs. You can see how this works in videos on our YouTube channel!
Do you make left-handed journals?

Technically, our discbound journals are ambidextrous. They work much like a spiral bound notebook and can be folded over on itself for easier writing.
Do the discs get in the way when you write?

As a right-handed writer, not really, even when we use the left side. However, another great aspect of these journals is the ability to remove and move pages around. So in the instance that the discs were to get in the way, you can remove the page, write on it and then replace it, effortlessly.
Do the pages fall out easily?

The discbound system holds pages very well. The only time that pages would fall out would be if your pages were punched incorrectly, making the depth of the punch too short. If you feel this is the case with your purchase, please reach out to us as that should NOT be the case. 

If you put too many pages on the discs, the pages will start to pop out. This means that you need bigger discs or to archive some of your older pages!

All journals are made with 1-inch discs, meaning they can hold rouhgly 150 pages. You can purchase bigger discs here.
Do you journals work with other brands?

Yes! Our journals will now work with 8-disc systems! Do note though that while the Player's Notebook is a junior size, our DM Notebook is a little wider (measuring at 7 inches wide) and therefore may not work with all store-bought systems.

All brands are interchangable, though you may see slight differences in hole sizes.
Don't see the answer to your question? Contact us!